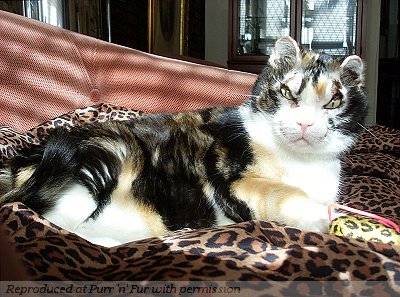 Scarlett (June or July, 1995-October 11, 2008) was a former feral cat from Brooklyn, New York whose efforts to save her kittens from a fire attracted worldwide media attention, and have been described in a number of non-fiction books.
She was probably born in June or July 1995. As a stray cat, Scarlett probably had her first litter at about eight months old. If the kittens were her first litter, she was probably about nine months old, when she became a heroine.
The Fire
On March 30, 1996, Scarlett and her five kittens were in an abandoned garage allegedly used as a crack house in Brooklyn when a fire started for undetermined reasons. The fire department responded to a call about the fire and quickly extinguished it. When the fire was under control, one of the firefighters on the scene, David Giannelli, noticed Scarlett carrying her kittens away from the garage one by one. Scarlett herself had been severely burned in the process of pulling her kittens from the fire. Her eyes were blistered shut, her ears and paws burned, and her coat highly singed. The majority of her facial hair was found to be burnt away. After saving the kittens she was seen to touch each of her kittens with her nose to ensure they were all there and alive, as the blisters on her eyes kept her from being able to see them, and then she collapsed unconscious.
Recovery
Gianelli took the intact family to a veterinary clinic at the North Shore Animal League in Port Washington, New York where Scarlett and her kittens were treated. The weakest of the kittens, a white coated, died of a virus a month after the fire. However, after three months of treatment and recovery, Scarlett and her surviving kittens were well enough to be adopted, during which time one of the staff of the clinic stated that Scarlett was "spoiled rotten and treated like a queen".
The name Scarlett for her came about because her actions in saving her family recalled those of Scarlett O'Hara in the epic film Gone with the Wind; but also because of the red patches of skin visible through the burnt fur. Her eyes gradually regained their sight, although it was necessary for surgeons to replace one of her eyelids.
The story of this feline mother's heroic efforts to save her kittens attracted international media attention and the clinic received approximately 7,000 letters offering to adopt Scarlett and her kittens. The clinic ultimately chose to divide the kittens into two pairs and the pairs were given over for adoption to residents of Long Island. Scarlett herself was adopted by Karen Wellen. In her letter Wellen indicated that, as a result of losing her cat shortly after being injured in a traffic accident herself, she had become more compassionate and would take in only animals with special needs.
Passed Away
In December 2007, Scarlett was still living with Karen and 'as sweet and beautiful as ever'. However, despite all she had been through, she had had to fight a new battle, as during 2007 she was diagnosed with lymphoma. Excellent medical care and a good response to the treatment meant that the disease was later in remission — and of course Scarlett was nothing if not a fighter. Karen kindly sent a new photo.
In late April 2008, though, came further bad news: Scarlett was suffering from hyperthyroidism, which she'd had in the past but which had been dormant for some time. It became necessary for her to be taken into a facility called Thyro-Cat to receive treatment with radioactive iodine; during this time, because of the danger from radiation, she was not allowed visitors. The treatment and the time until she was deemed 'safe' and able to return home lasted a week — clearly an extremely worrying time for Karen and her parents. However, with Scarlett's heart and kidneys in good shape, and the cancer still in remission, she seemed to come through the treatment all right (right). Although she suffered from loss of appetite for a time and had to be hand fed, the news in early June was that her thyroid was functioning correctly, she had her appetite back and once again all seemed to be well with this remarkable cat. All her many, many fans and supporters out there, ourselves included, hoped that would continue to be the case for some years yet.
While with her adoptive family in Brooklyn. On top of all her other problems, including now a heart murmur and some difficulties with her teeth, came kidney trouble — so often fatal in older cats. So it was with brave Scarlett. Each day became more of a struggle for her, and the quality of life she could enjoy was deteriorating rapidly. She was hospitalised, but when she went home she could not even stand up. Karen said she 'knew there was no going back'. After consultation with her vets it was felt that the cat had suffered enough, and so on 11 October the heartbreaking decision was made to put her to sleep. She died peacefully in Karen's arms, with 'two wonderfully caring and compassionate vets' from NSALA in attendance. Anyone who has had to make a similar agonising decision will know how Scarlett's owner felt.
Scarlett died on October 11, 2008
The Scarlett Award
The North Shore Animal League has formed an award named the Scarlett Award for Animal Heroism, in Scarlett's honor. This award is presented to animals that have engaged in heroic acts to benefit others, whether humans or animals.
She has also become a featured animal in the fund-raising and public relations efforts of the shelter that treated her and her kittens, the North Shore Animal League. On October 15, 2008, the League announced that Scarlett had died.